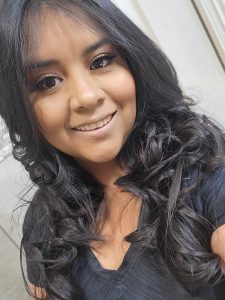 Meet the Newest Member of Our Team! 
We have a new member on team Target Hunger – Reyna Zapata! She has joined as our new Client Services Program Manager. Reyna will be leading our growing client services team as they assist clients in our pantries, at food fairs, and in our other programs. The individuals on this wonderful team are the faces and voices that greet our clients every day. They listen to stories, assist in registrations, and make sure that anyone who receives services from Target Hunger leaves with relief and nourishment. We are so excited to have Reyna on staff!  
We asked Reyna to answer a few questions so that you can get to know her a little better!  
8 Questions with Reyna 
Q: Where do you most want to visit in the world?
A: Hawaii 
Q: What is your proudest accomplishment?
A: Becoming a first-time homeowner 
Q: What is one thing you could not go a day without? 
A: Family 
Q: What's your favorite way to spend a day off?
A: Shopping  
Q: If you were a super-hero, what powers would you have?
A: To be invisible.  
Q: If you could share a meal with any 4 individuals, living or dead, who would they be?
A: My grandpa, grandma, mom, and dad  
Q: Who would you want to play you in a movie of your life? 
A: My daughter  
Q: What's your favorite family recipe?
A: My mom's mole poblano  
Q: What is your favorite ice cream topping? 
A: Caramel syrup 
Q: What is on your bucket list? 
A: To build and design my own home.  
Q: What are 3 words that best describe you?
A: Crazy, accountable, ambitious
Welcome to Reyna! Target Hunger is excited to have her on the team, and we can't wait to see how she guides our client services team to be even more impactful in our community! 
Latest posts by Target Hunger
(see all)