Meet Two of Our Garden Volunteers!
Work in our Goffney and Shotwell gardens is never ending, from weeding to planting to harvesting, it's a constant process. Our Garden team, Lupe and Mark, do an incredible job working in the
Houston heat, but they don't do it alone! We have incredible volunteers who spend hours helping to get the work done. Husband and wife,  
Bill and Sharan, are two of those volunteers. Bill and Sharan come to the gardens once a week to help with whatever is needed. In the last year, they have spent over 100 hours volunteering with Target Hunger! We are so grateful for their commitment to Target Hunger and to making a difference in Houston. We asked them to share about their time volunteering in the garden, read what they have to say!
Q: What prompted you to get involved with Target Hunger?
Bill: I started volunteering after retirement as a way to connect with the communities. I first joined through Volunteer Houston. Then I received an email from Target Hunger asking for volunteers to work in the Shotwell warehouse and to help distribute food. From volunteering at the warehouse and distribution, I found out about the gardens and decided to volunteer regularly at the gardens. Sharan: I was laid off in May of 2020. At age 64, retirement is the most likely result. My husband, Bill, invited me to join him when he volunteered at Target Hunger, so I gave it a try.
Q: How long have you been volunteering in the gardens? How often do you volunteer?
Bill: I think started volunteering at the warehouse and food distribution right after the start of Covid-19, early 2020. Then I started working in the garden around May of 2020. I usually work one morning a week from around 8 to around noon, on Thursday or Friday. Sharan: I started around September 2020, volunteering half a day each week. 
Q: What is your favorite thing about volunteering in the gardens?
Bill: My favorite thing is to see immediate progress after working – a weeded bed ready for planting, planting seeds, and harvesting fully grown vegetables. Another enjoyment is to work with others at the garden. Sharan: Looking at the results. Meeting people when working in the garden and listening to the life stories they share with me. 
Q: What is your favorite vegetable and how do you like to cook it?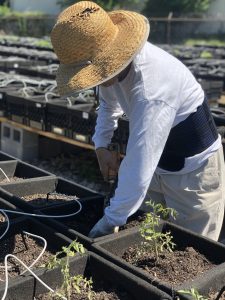 Bill: Everything at the garden is my favorite. I have learned about growing and eating them from Barbara, Mark, Lupe, and other volunteers. Sharan: Sweet Basil with scrambled eggs. 
Q: What would you say about your experience to someone who might be interested in volunteering with Target Hunger?
Bill: Volunteering at the garden has many benefits. It is good for physical heath as you are working your body. It is good for mental health as you see your work turn into progress and "bear fruit". It is good for your "soul" as the fruits of your labor benefit other people as well as yourself. It is also a way to be useful to the community. Sharan: It's great to spend half a day a week outdoors; make yourself useful, see the results, feel accomplished, and meet different people. 
Q: In your own words, why is Target Hunger's mission important?
Community is us. Some of us need help sometimes in our lives. When we can offer help, we do and when we need help we hope to receive. It is about helping each other when we can. When we help others, we are helping ourselves.
Our community gardens are a great place to volunteer by yourself, with a friend, or with a team. We would love to have you join us! Visit targethunger.org/get-involved to see opportunities, or contact our Volunteer Manager, Sean Nickelberry, for more information. We hope to see you volunteering with us soon!
Latest posts by Target Hunger
(see all)