Growth in our Navigation Services – Providing Hope and Resources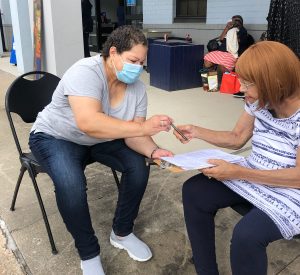 This week we want to share more about our Navigation Services – a program that goes beyond the need for food to help clients with the root causes of hunger. What started as an informal conversation between our home delivery drivers and clients has become a team with four dedicated staff in the last two years. Our amazing team of Community Health Workers connects families with resources for any number of issues, from assistance in applying for SNAP benefits or the Children's Health Insurance Program, to connecting families with other nonprofits who can provide much needed resources like car seats and baby formula. Thanks to the support of Houston Methodist and The United Way of Greater Houston, we have been able to expand our program's reach and have added additional staff. 
Juanita's Story – A Grandmother Helping her Widowed Son Raise his Family
Juanita is a 69-year-old retired grandmother living in Denver Harbor. Seven months ago, her daughter-in-law passed away from pre-eclampsia giving birth to her 5th child, a boy named Jasper. "It happened from one day to the next, it changed my whole life," she said remembering dropping her daughter-in-law at the hospital during the pandemic.
Juanita has stepped in to help her son, Benjamin, who is now widowed with 5 young children. She makes daily visits to her son's house, making the home cooked meals her grandchildren love and watching over them while her son works. The oldest, Jaxon, is 10 years old and has autism. Then there is hyper, 8-year-old Gavin, and 7-year-old Liliana who loves mermaids. Oliver is 2 years old, just a year and a half older than baby Jasper.
While caring for the kids brings great joy to her life, the struggle to provide household necessities is very real. Despite needing knee surgery, she spends much of her day finding resources and caring for the kids. Juanita describes herself as a responsible woman and mother, never needing outside help. She "went through a lot of things," but she says they made her stronger. When she was introduced to Mildred, one of our client coordinators at the Denver Harbor pantry, she felt a wave of relief. "Mildred has always been so helpful since I met her."
The family receives SNAP benefits, but it is not enough to cover the family's needs. Juanita receives food through our pantry program and attends Food Fairs as needed. Additionally, our Navigator Shirley was able to help Juanita get diapers and baby formula after the family ran out. They receive WIC for baby Jasper, but they ran out of formula before their next appointment. Our Navigation team was also able to refer the family to Bo's Place for grief counseling. "These children, especially the oldest, they tell me every day 'I miss mom,'" Juanita explained with tears in her eyes. Shirley is now assisting the family to find school uniforms before the start of the school year.
Though times are tough, Juanita is strong for herself and her family. "I don't have any shame what I'm going through. I love what God has given me, all the doors he's opened for me in this journey." Drying her tears and with hope in her voice, Juanita says she is grateful for the support she receives from Target Hunger. "Just the words, 'do you need anything?' it's so wonderful to hear."
Latest posts by Target Hunger
(see all)